Five Simple Ways To Organise Your Bedroom
Five Simple Ways To Organise Your Bedroom
The bedroom is a place of rest. It's where you start and end your day, and it's also where you can be yourself.
You can think, relax and get time away from the world, in your very own sanctuary.
But if you're currently looking around your room, wondering how your sanctuary got so heavily buried in children's toys and washing, you're not alone.
When you keep all your daily essentials in once place, it's easy to let the lack of time and energy take over in the morning rush. So inevitably, your place of peace can end up being more a collection of clutter, with just a small space to collapse and fall asleep.
The thing is, having an organised bedroom is about much more than just having a tidy space. It's about creating a place that will help you sleep, relax and switch off.
So, to help your brain be a little less busy, you need to make sure your bedroom is too! Here are our top tips to get you started.
How to organise your bedroom
1) Have a sort out
Decluttering regularly is a big part of staying tidy. Simply because having too many things is always going to mount up and lead to mess.
So, have a clear out, and that goes for your wardrobe too. It's easy to forget how much space old clothes can take up. And even getting rid of a few piles of things you never wear anymore, will clear out much more space than you think.
2) Organise your wardrobe
Now that you've had a clear out, you're ready for the next step – organising your wardrobe! Wardrobes are great – they store, hang and hide so many things, helping to keep your room neat and clutter-free.
Use yours to your advantage and make sure each part holds as much as possible (without it becoming impossible to use!).
Hanging clothes should be kept in sections –not necessarily colour order or anything unless you're really getting into the whole organisation thing – but clothes for work, special occasions, for nights out etc.
That way, your morning routine won't get disrupted by wasted time trying to find your favourite top or that dress you need.
3) Use all your available space
It doesn't matter whether your bedroom is big or small, you should always be looking to use all the available space. Whether that's by using under bed storage boxes, or simply stacking up a few storage boxes on top of your wardrobe, under your bedside table, or under your desk. But not so many that it starts to look cluttered of course!
Making sure you use the same style of storage boxes around your room to create a theme will really help keep this under check.
4) Conquer your beauty products
Make up, creams and perfumes can look nice in little clusters, but when you have a whole array of brushes, powders and eyeshadows, the number of products you have scattered on your surfaces can really add up.
Dressing tables are great for helping you keep on top of your beauty regime as they hide away all your essentials while giving you a clean, clear space to get ready.
Not got enough room for a dressing table? Bedside tables are fantastic for giving you a place to tuck away your make up and moisturisers. These Wicker Drawer Bedside Cabinets are perfect for allowing you to keep everything in one place while hiding everything away quickly and easily – ideal for the morning rush!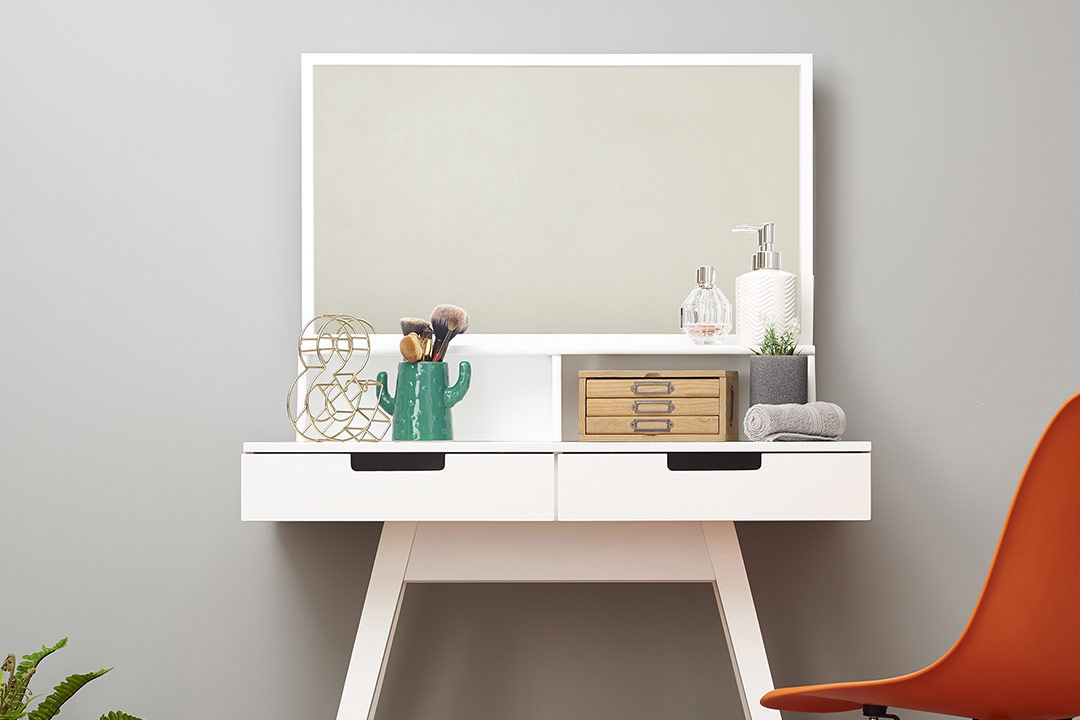 5) Organise your jewellery
Jewellery is one thing that is very difficult to store away. A small selection of necklaces left in a drawer can soon become a knot of chains without careful attention.
So, when displaying jewellery, make sure you have lots of trees and earring boards, so the pieces don't get mixed up or start to clutter your sides.
These simple steps will get you off to a great start in uncovering your sanctuary. And to get more tips and inspiration for your home, head over to our Instagram and Facebook pages @HartleysDirect.