Top Five Ways To Sell Your House Fast
Top Five Ways To Sell Your House Fast
Our homes are ours and so when we're designing our living space, we want to make it feel personal to us.
Looking around my home, I see dashes of me and my closest friends. Photos, souvenirs and memories of places I have been. Things that I love, in colours that I like, objects that make me happy and all the other things that I use on a daily basis.
The thing is, I live like me. You live like you. And others live in all sorts of different ways.
When looking round houses, there are so few that you walk round and think to yourself, "I wouldn't change anything".
Most of us would at least change one thing – the important thing is that when you come to sell your own home, that you give viewers the chance to have their own vision.
Soon, it won't be your home anymore, so the things that are more personal to you need to be set aside and stored, ready for your new place.
And the easier it is for them to imagine themselves in your home, the more likely you are to be able to sell up and move on.
Let's get started.
How to improve your home in an instant
1) Declutter
When we have children or simply a busy lifestyle, then we get used to clutter. Very few of us live in show room houses! We live with what we need and we get used to those things being around us.
Clutter however can make our houses look smaller than they are. It's also a distraction from what viewers should be looking at, for example, the size of a room or whether their sofa will fit or not.
Storage is great for hiding away all the things you need, so take advantage of what you already have. And if it's already full, it might be time to have a clear-out.
It's amazing just how much you can throw away, recycle or give to charity in an afternoon. Get everyone joining in and see what you can store where to get the most out of your space.
2) Make an entrance
It's easy to dismiss the hallway as somewhere you just put your shoes and hang your coat. But coming into the home, it's the first thing you see. So, it's really important that it gives viewers a good impression.
Having a tidy-up and making sure that anything that could be hung up, is on a hook (and not on the bannister) is a great first step.
Hooks are really helpful here, as are shelves. But again, remember to take things that aren't being used to the charity shop before you begin.
Shoes that are piled up or left on the mat will look so much tidier in a shoe rack. Muddy shoes and garden slip-ons are hidden away and they just give an all over neater appearance.
Clear the stairs and perhaps get a new rug or entrance mat too. They're cheap and it's just one more thing that helps give viewers that positive impression.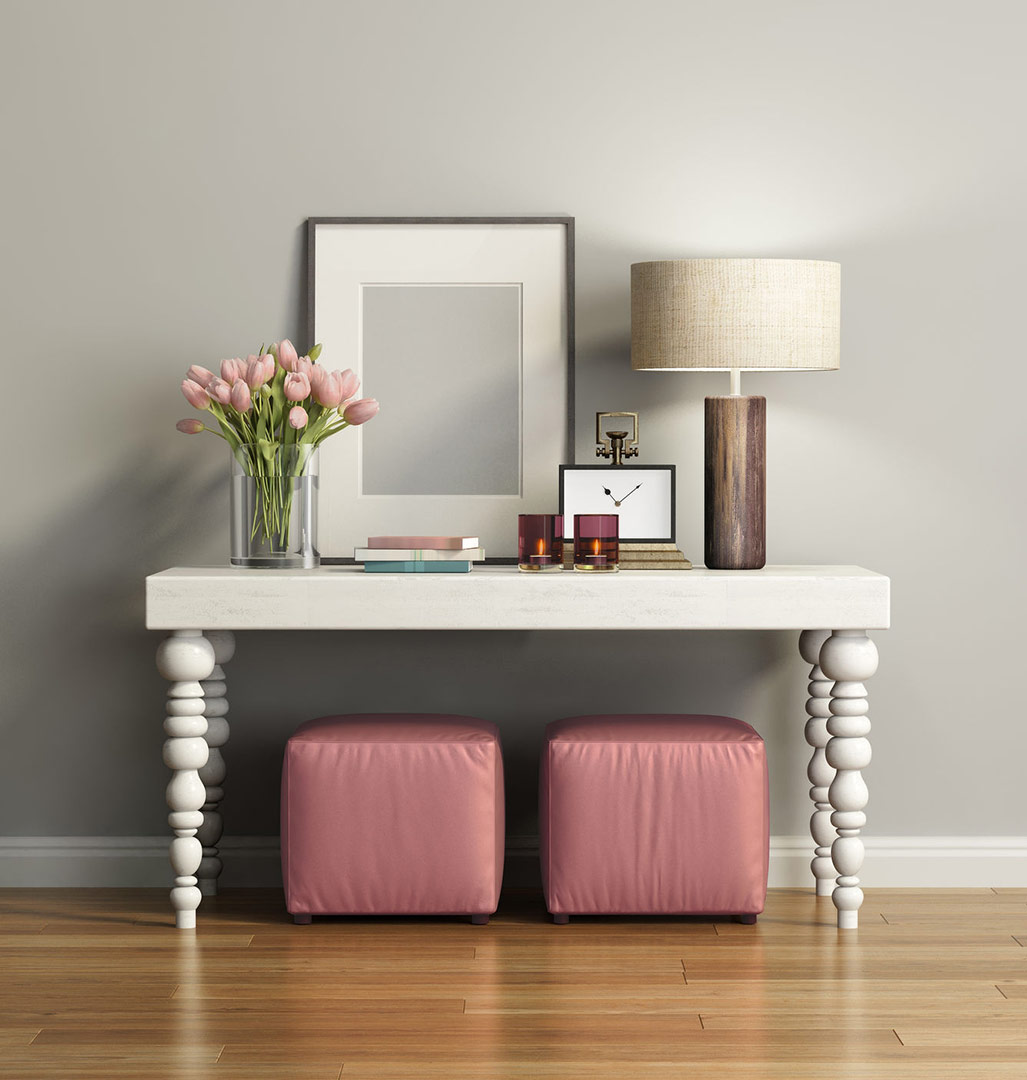 3) Put your personal items into storage
Living without all those things that you love on display can be hard. However, this is one thing that will really help give viewers that impression that this house could be theirs, because they see themselves living in it.
Your photos, ornaments and crafty creations are wonderful ways to embellish your home. While you have viewings going on however, it's best to put these items into storage.
4) Stick to neutral colours
Although not everyone is a fan of neutral colours, it's one of the best ways of turning your rooms into a blank canvas.
White, cream and beige are all much easier to paint over compared to darker colours such as navy blue or forest green.
The best thing about this however is that white paint tends to be cheaper than the richer, coloured paints. So, layer on the ivory cream and lighten up some of those walls to a more neutral palette.
It's also a great opportunity to hide any marks on the walls that have been made over the years too!
5) Ideal living
A new home is a new start. So make sure anything that's broken or needs attention, is fixed and sorted before you open the door to viewers.
Even temporary fixes will need addressing. Moving house is about ideal living a lot of the time. It's fulfilling that dream of having a house that is exactly how you imagined.
So, fix what's broken, fill in any holes and make sure that any botch DIY jobs are done by a professional.
Finally, it's always a good idea to make your home seem as bright and fresh as possible. Light up darker rooms with lamps and soften any colder rooms with candles, cushions and throws.
Viewers will notice little details too. Just before viewers come round, it's worth brewing some fresh coffee or popping some part-baked rolls into the oven. There are few scents as lovely and as welcoming fresh bread and this will really add to the feel of your home.
And if all else fails, a quick spritz with a good-quality room spray is the next best thing! And don't forget to head over to our Instagram and Facebook pages for tips, ideas and clever storage solutions @HartleysDirect.
Happy house hunting!