Top Eight Alternative Garden Party Ideas
Top Eight Alternative Garden Party Ideas
I have a confession to make: I hate barbecues.
Even the thought of having to hang around a smoky grill all day while trying to avoid an influx of wasps, just makes my heart sink. And in all honesty, I just don't want to spend four hours trying to make small talk while balancing a paper plate on my knees.
Now. I know there will be so many of you reading this wondering what barbecues have ever done to upset me so much – for which I apologise. I'm certainly not here to deny the popularity of infinite burgers served up with a side of cold beer.
But, even if you love a garden get-together with the grill fired up and the drinks chilling on ice, there's always room for more.
And whether you're like me and shudder as soon as someone mentions the word 'chargrilled', or just fancy doing something a bit different, read on.
Inspired by my general craving for variety when it comes to al fresco get-togethers, I've picked out my top eight alternative garden parties.
Garden parties with a difference:
1) Icing on the cupcake
Admittedly, I have a sweet-tooth. So, the idea of swapping a hot dog for a cupcake is immediately appealing. However, this isn't just about me sitting in the garden eating cake (which already happens on quite a regular basis). Barbecues, (I hear), are about having an excuse to get together with friends and family and just enjoy each other's company.
So if you did fancy swapping out the burger buns for the cake buns, why not have your very own cupcake decorating session in your back garden? Grab an outdoor party table and pile it up with fairy buns, different types of icing, food colouring, sprinkles, bows, chocolate buttons and edible glitter. And then just have fun pimping up your cupcakes while you chat and catch up.
Serve with tea, coffee or even champagne and at the end, everyone gets to have their cake – and eat it!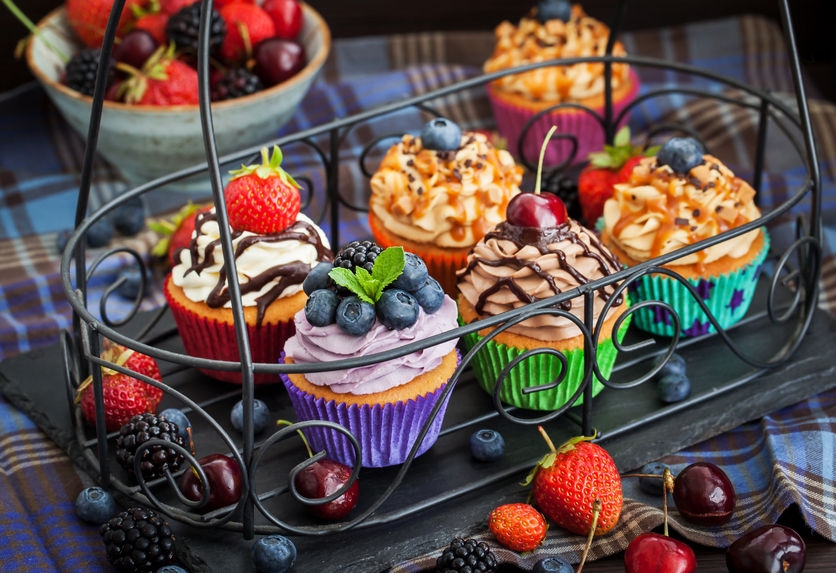 2) Games galore
Playgrounds might be just for kids. But when there's fun to be had, there's no reason why you can't relive a few childhood favourites.
Turn your garden into a playground for the day. All you need is a few cans of line-marking spray paint (that's suitable for grass), and you can create all your playground picks in one go. Hopscotch, tag, leapfrog, red rover, jump rope and stuck-in-the-mud all come to mind.
3) Gin fizz bar
So you might not have agreed with me on barbecues, but hopefully you might agree with me on gin. It's just one of the best drinks around. And if you're currently picking up a cold cider and shaking your head at me, again, I apologise. But the good thing is, now that the world and its dog seem to have fallen head-over-heels for this botanical based beverage. And this means, all the different varieties that were normally only found in underground bars in London, are now sitting on the shelves of your local supermarket.
Bag yourself some miniatures or set up an entire bar so that everyone can create their own gin-inspired concoction. Add in a selection of fruits, herbs, straws and decorations for a touch of sparkle and theatre.
4) Light up the night
Barbecues are often a daytime event. So, when it comes to having a party in the evening, there's always room to do something a little bit different.
Make the most of spending time under the stars with a nighttime buffet. Fill your party table with sweets, treats and nibbles and get your glow on with some ultraviolet goodness. Glowsticks, glow-necklaces, neon sunglasses and anything that lights up.
And it's probably worth mentioning here that gin and tonic glows under ultraviolet light – just saying.
5) Get crafty
There are lots of ways you can get crafty with your friends and family while enjoying time in the sun together. Whether it's a birthday celebration, hen do, special occasion or just an excuse to catch up with everyone.And while you're chatting, why not do something creative together? Whether you love to craft or are just looking for something easy to pick up and finish in a day, why not have a selection of things for people to make and take home? Paint a plate or a mug, personalise a cushion cover or decorate a notebook.
Do your own or make each others. Pick a theme to inspire everyone or let them personalise their own!
6) Fée for a day
Leave your shoes at the door and grab a pair of wings, it's time to turn your garden into a magical haven. Wake up your inner fiver-year-old and don't forget to tell your friends! Fairy cakes, body glitter, pink lemonade, face paints and edible flower decorations are all on the agenda.
Get together, have fun, eat, drink and be merry. And if you're looking for something a little extra, why not get a selection of wildflowers, jars and ribbons so that everyone can make their own bouquets?
7) A game to remember
Everyone loves a game of beer pong – there are even rumours that Harry and Meghan played it their wedding reception! Not sure where to start? Grab a beer pong table and read up on how to play beer pong here.
It's really great for getting everyone playing, drinking and having fun. Of course, I should mention here that it doesn't have to beer – or even alcohol – and that everyone should be drinking responsibly. I definitely do – honest. Try it with soft drinks, fruit juices, or any drink of your choice. You can even play Prosecco pong!
8) A taste of Italy
Italian food is a bit of a favourite for me. And the beauty of it is that there's so much variety.
Turn your garden party into a little version of Italy. Make your own pizza dough, get a variety of toppings, olives, breads, dips and wines – and go to town! Everyone gets to make their own pizza or Italian- inspired dish – perhaps something summery and light like a bruschetta – drink, eat and be merry.
Get some Italian-inspired music on and have fun.
Not a fan of Italian food? Change it up with whatever theme you love the most. Roll your own sushi and get a selection of sake. Or you can even create your own spice mix and cook a bespoke stir fry dish. Serve up noodles and rice in little takeaway pots with chopsticks as fun alternative to plates.
As you can see, it doesn't matter whether you love a British barbecue, or can't wait to get away from it all – there are plenty of alternatives to choose from where you can have fun and get creative.
Enjoy!