Dressing Table Ideas: Spring Design And Inspiration
Dressing Table Ideas: Spring Design And Inspiration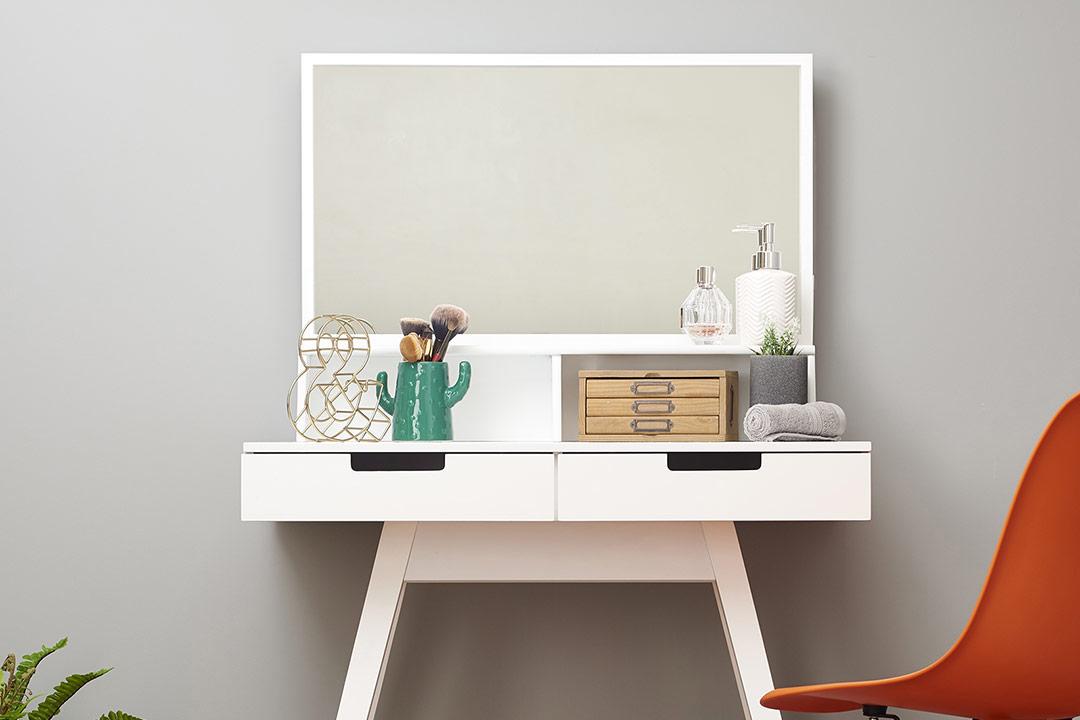 As the weather gets warmer and festival season is in full swing, there's nothing more exciting than trying out new looks.
Braided hair, neon brights, sunshine yellows are just some of the new trends coming our way this season and of course blush pinks are here to stay. And if you love spending time getting ready, then you'll want the perfect space to get creative.
Our dressing tables are sleek, modern and have lots of storage space for all your beauty essentials.
And if spring is your thing, you'll want to customize your dressing table to match your own personal style.
To help you feel inspired, we've tried out some of this year's must-have looks on one of our beautiful dressing tables.
Global goodness
Breaking away from the traditional high street pieces, this look is all about encapsulating where you've been and where you'd like to go next! When our life goal is to travel the world, it's hard to forget all the amazing places you want to see and things you want to do.
And if you've already been away, your dressing table is the perfect place to keep all your souvenirs, cards and photos near by. Not only for colour and detail, but for inspiration. As well as a great way to add a personal touch to your beauty space.
Blush pink
Pink has always been in fashion. And this beautifully soft, vintage pink provides the perfect base for your vanity table. Dress it up with perfumes, brushes, trinkets and jewellery for a really pretty look.
As always, using more personal items will help to make your dressing table feel more special. And that's exactly what you want from a space that's just for you.
This pink look marks a space that's filled with love and precious things. Somewhere you can take care of yourself and feel your best, no matter the time of day!
Scandinavian
A more minimalist look, this hygge-inspired design gives you time to think and space to breathe. Perfect for anyone who loves a clear, modern look that's clutter-free.
Simple, muted pieces work best to complete this look as they won't distract from the overall feel.
Green plants are also great for ensuring this minimalist look still has shape and presence.
And soft lighting options such as rope lights and candles will help to remind you that this is a space for you, and no one else.
These are just our takes on these gorgeous themes but play around with them and see what you can create! And the best thing about these looks is that you don't have to choose just one either. Mix and match and play around with what suits you best.
Spring is a lovely time for a new look and just incorporating some change into your home. Floral motifs, freshly-cut flowers and delicate room sprays will all add to your look. And as the sun makes more of an appearance over the summer months, you can move more into a tropical theme. And you can resist adding a fruity, colourful dash to your bedroom once the holidays hit?
And the storage areas on this table in particular are great for keeping hold of all those spring/summer extras. Shimmer powder, body glitter, lip gloss and hair accessories can all be boxed up and tucked safely away, ready for whenever you need!
Don't forget to share your dressing table ideas with us! Find us on Instagram and Facebook @HartleysDirect.