Five Simple Ways To Get The Pantry You've Always Dreamed Of
Five Simple Ways To Get The Pantry You've Always Dreamed Of
I have to say, my relationship with food is pretty strong.
We've been going steady for a while now and even the everyday things are some of my favourites.
Potatoes, pasta, cake, toast – just carbs basically.
My brain tells me I don't need quite as many as I actually consume. But my hormones and I are pretty set.
The thing is, when it comes to food, it's a lot more than a few late night cheese board fests – as essential as these are.
We cook, we taste, we bake, we prepare, we flavour, savour and more. Food is fuel, food is comfort, food is love. And with so much going into all the dishes we prepare, having a small cupboard filled with a few bits of rice, pasta and biscuits doesn't quite cut it.
And if you're like me, whenever I open my pan cupboard, I get an avalanche of baking trays and tins flooding out at me. It's really quite unsettling. Especially when you've had a gin and all you need is the pizza wheel.
The answer? A lovely space you can put all your dry food, condiments, baking apparel, scales, cereal boxes and more. Otherwise known as – a pantry.
Of course, like the whole walk-in wardrobe dream, there aren't many of us who actually have a spare room just waiting for us to unleash all our stuff we don't have space for.
But, there are still lots of ways you can be creative. From book shelves in the kitchen, to floating shelves and cabinets under the stairs, to wire shelves in the utility room.
And if you have a little space to play with – even if it's just a small amount – there are lots of ways you can get it looking really lovely.
Ready to get started?
Perfect pantries: get the look
1) Pick a style
Storage is often something you hideaway. But when it comes to pantries, it's very different. You're no longer stuffing things behind cupboard doors. Everything is on display and should be easy to find. And there's also that sense of satisfaction when everything is sat neatly in its place.
By picking a style for your pantry area, not only does everything look nice, but it's also another way of organising.
You can have an overall theme, or pick different colours for different categories of items. Each with their own label, jar, colour or bow.
Themes can be simple such as the more modern and traditional styles. Or you can pick something that's really personal to you.
Section off different colours, add fairy lights, lace through some little succulents and instantly you have a pantry you can really be proud of.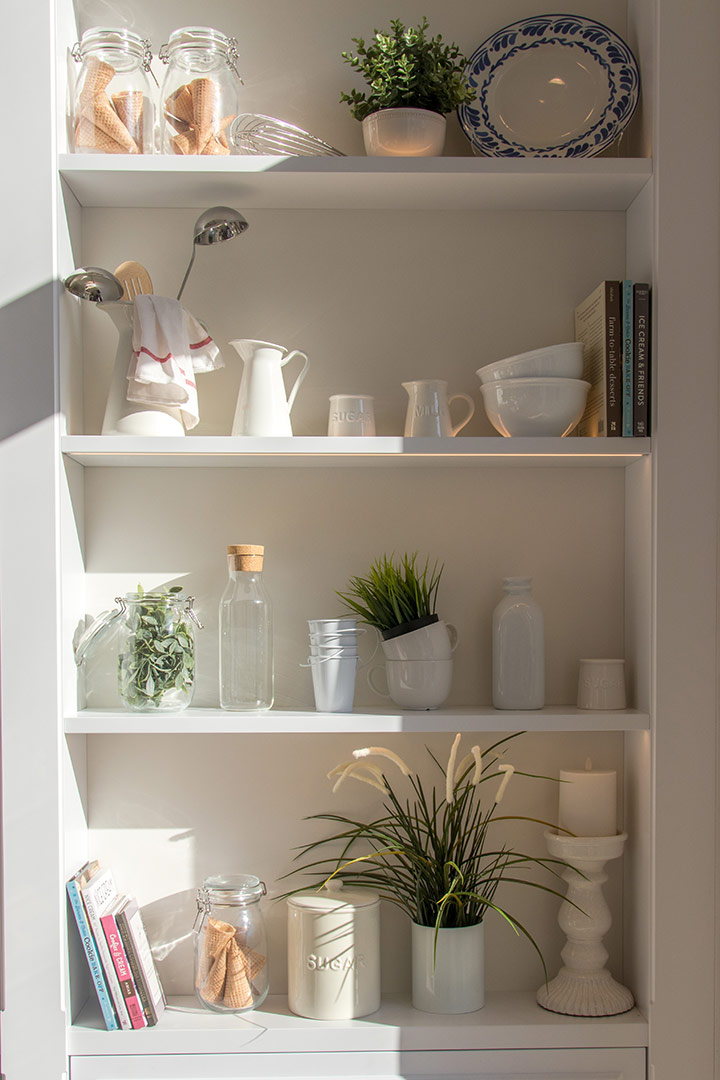 2) Pots, packets and jars
By keeping everything in its original packaging, your pantry can end up looking a little mismatch. With reusable jars, packets and pots, everything looks consistent. You can keep an eye on what needs topping up too!
Jars are also airtight so your food stays fresh and dry. Use for cereals, spices, baking ingredients as well as pasta, rice and popcorn kernals.
Oils and vinegars can be put into lovely glass bottles too. Flavour your own with herbs, garlic and chilli or simply decant your favourite condiments and relishes into little pots, ready to go.
3) Organisation is key
By removing all the packaging, everything may look better, but all the immediate identifiers have gone. That's where stickers, labels and tags are key.
Not just for the sake of organisation, but it's an opportunity to play around with the style.
Make them simple, ornate, rustic or playful with Alice In Wonderland-esque "Drink me" and "Eat me" labels.
And it's not just about making labels for jars either. You can add little signs to each shelf that say things like "Treats and sweets", "Nice things" and "Baking delights", depending on how playful you want your pantry to be.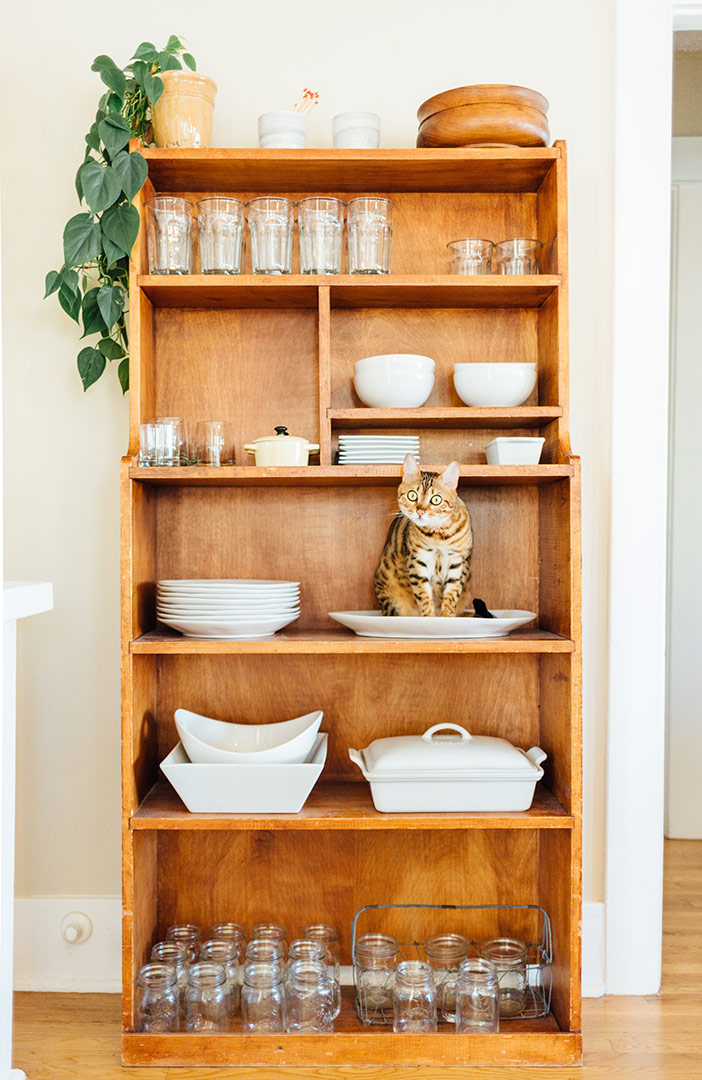 4) Get creative with your space
We often think of pantries as beautiful walk-in closets that are right next to the kitchen. But not everyone has the luxury of such a well-defined space. And even when you do, it's usually better suited to housing things like laundry and washing machines.
The thing is, it's your home so you make the rules. Find spaces around the house that can be turned into add-on or even secret storage areas.
The cupboard under the stairs, part of the hallway or you can even section off some of the utility room.
Build, create and feel inspired to invent a home that's set up to how you love to live.
5) Leave room for more
If you're like me and you love to cook, bake or even just eat, then it's definitely worth having a contingency plan. After all, you can never have enough pots, pans, trays, utensils and, well – food.
When planning your pantry, don't forget to include some extra shelf space for any spontaneous purchases. After all, you can never have enough cake decorating tools and edible glitter!
Also, this will be really handy for when you need a little extra room for proofing dough, letting cakes cool, tarts set and meat rest.
Ready to give your kitchen a whole larder love? (Sorry...)
I hope after reading this you not only feel inspired to make room for your own pantry, but also that you feel empowered to create a home that you love living in. A home that's personal, well-loved and just right – for you.