Five Things You Must Do In Your Garden This Spring
Five Things You Must Do In Your Garden This Spring
Green fingered – I am not.
In fact, the thought of having to spend time digging around in the soil while narrowly avoiding wasps fills me with dread.
There is however, one thing that coaxes me outside every year and that's the warm, summer evenings. Hazy sunsets, salty snacks and a topped-up G&T. All enjoyed outside on the patio, perhaps with a card game om the go. It reminds me of my summers growing up (minus the gin), sitting with my family while they played a game of Scrabble.
My dad is a man of words and he has always been quite competitive. I remember him sitting back one warm Saturday evening, poised, ready to unleash a seven letter word, while puffing on his cigarette. Unaware of his impending attack on the rest of the family, and too young to know any better, I stepped into help. Acting with initiative, I tipped his terrible letters back into the bag and got him some new ones. Useful ones – ones where he could spell good words like 'the', 'ball' and 'Sue'.
He was livid.
Anyway. Where was I? Oh yes. The garden.
The thing is, all these lovely memories wouldn't be in existence if our outside space had been an overgrown hoard of nettles. Whether you love to carefully tend to your garden, or just do what it takes to stop it from shredding your clothes every time you head outside, it still needs some attention.
And spring is the best season for it. Winter's taking a break in the southern hemisphere and April showers have started to kick in with full force.
It's time to clear, plant and cut back to help ensure a healthy garden as well as a great space for drinks, barbecues as well as successful word games...
Heading out?
Before you get started, make sure you're fully-prepped with all your gardening gear. That means, gloves, kneel pads, tools and shoes. Keep a bag of bits near the back door along with a shoe rack with all your muddy footwear as well as all your summery sandals for when you feel like pottering around the garden.
Spring gardening checklist:
1) It's time for leaves to leave
Mulch. It's not a word I use regularly. But it became part of my vocabulary when I started investigating how to get clean up the leaves that are strewn across my lawn every autumn/winter time. Mulch can be made up of lots of things and in general, is some sort of layer you can apply to your flower beds to help retain moisture and protect the soil.
Wait for a dry day. Then, the first thing you want to do is collect all your leaves up and dry them out so you'll need some sort of bin or container to do this. The idea is that you're not turning them into compost, you're just letting them dry out and break down a little so that you can scatter them easily on top of your garden soil. Once they're dry and broken down, you can scatter the mulch on your prepped soil – ideal for those hot days during summer when you don't want your beds to dry out!
2) Cut back and prune
Lots of plants need to be cut back in order for them to grow again. This means dead-heading, cutting back bushes and once it's finally dry, mowing the lawn! This is also a good time to check your lawn mower is working and well-oiled in time for the summer. Grass needs cutting a lot more than you think when the weather heats up and you don't want broken tools holding you back from enjoying a few cold cocktails in the garden.
3) Plant the seed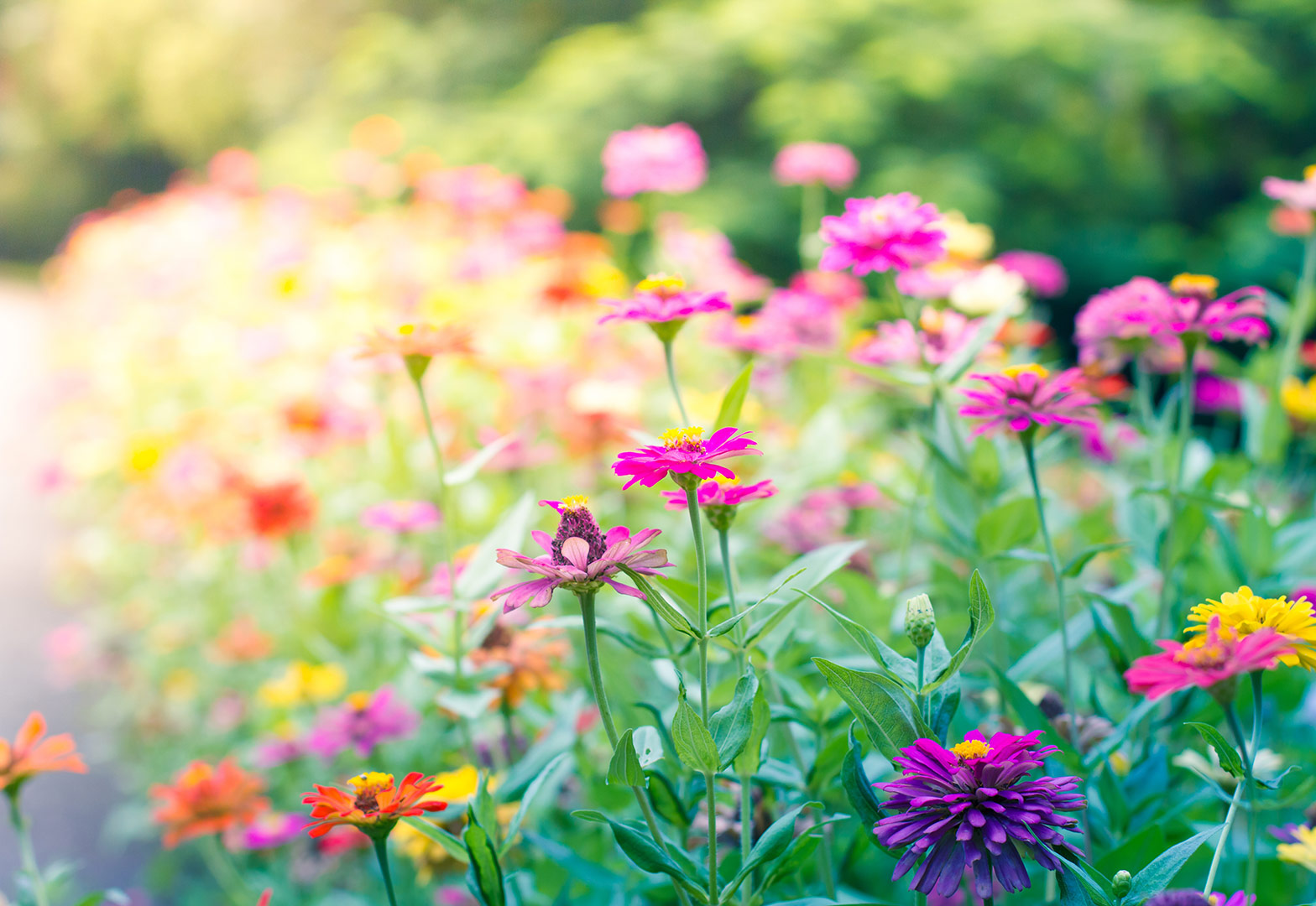 Once your soil is turned and aired, you'll want to start planting some seeds. After all, what's a garden with no flowers in it? Even if you're a bit late for them to flower this year, you'll be nice and prepped for next year's spring. April is also the best time to plant your vegetables.
And there's nothing better than growing, cooking and eating your own vegetables. Everything tastes so flavorsome and it's a fantastic feeling being able to pick your own free food. Try planting things like lettuce, radishes, kale, peas, carrots and chard – ideal for salads and sides for fish dishes. Smaller plants are best started off somewhere a little more sheltered.
Why not gather up your budding pot plants and pop them on a Hartleys Wire Shelf Unit? Ideal for keeping your smaller plants protected during the more delicate stages, as well as aired and drained.
4) Prep the path and patio
If your garden path is anything like mine, it's like that there's currently a light layering of moss growing over it. The same goes for the patio. Weeds love to shine through when you're not looking. My advice is to get the sprays and kill off anything you don't want. There might be some kinder souls out there who suggest more organic ways of getting rid of plants however. Whichever way you choose, de-green your concrete and pressure wash your path and patio to ensure it's looking all neat and tidy for the warmer part of the year.
5) Clean up your garden furniture
Even if your calendar isn't brimming with garden parties, you don't want to miss out on enjoying any ad hoc heat waves that come along. Now's the perfect time to get your garden furniture spruced up and ready for relaxing on. Needless to say, it's probably spent the last few months either in the garage or stacked up in the shed.
So, give it a good wipe down and clean up the cushions. And if they're past their best, it's a great time to head out to the shops and get some new ones. Something bright and colourful, that you can melt into when the temperatures soar.
Now is a great time to start investing some time into your outside space. And once the hard work is done clearing up after winter, it's a lot easier to just give it the odd prune now and again as the year moves on.
And when everything Is looking lovely, the best part is, you get to reward yourself with a soft seat and a large gin – perfect!
Don't forget to send us your gardening pictures on Instagram and Facebook @HartleysDirect.