Five Simple Changes For A Big Impact In Your Home
Five Simple Changes For A Big Impact In Your Home
Looking back to when I was 10-years-old, I may have been small, but I would always think big. I loved my room and I re-arranged it as often as I could. Not only so I could find new places to build little dens and hide, but also because it was a chance to see life differently. Shed some new light and think about the world, and everything in it.
During the summer months, I'd move my bed close to the window, so I could watch the sunset while lying down.
In the winter time, my bed would be tucked up in the corner so I could peek out from under the duvet.
It was my own space and even though I was still pretty new at life, I could see how much of an impact my living space had on my mood.
I played with different designs, always looking for the perfect place to write, draw and eat sweets.
Now a few *cough years *cough *cough later, I'm no different.
And even though I have a little more space to play with, it still feels the same as when I was young – trying to find the best place for my CD player and my inflatable chair, and deciding on which way to face my pillow.
For me, changing up my home is a way of getting a new perspective on the world. It lets me see things fresh and it's exciting too. A new look and instantly I'm ready to flaunt my refashioned Feng Shui to any willing friend who'll listen.
I love how simple changes can make a massive difference. It makes your home feel exciting every time you step in through the door. And it's such an inviting thing to do too because it makes you think about how you live and what you want to do when you're home.
It's about feeling revitalised and creating special places around the house just for you and the things you love.
There are so many ways you change up your home without spending lots of money. And it doesn't matter whether your home is big or small, there are always so many things you can do to really invigorate your home.
Ready to get started?
Changes you can make to your home – today!
1) Storage is key
A tidy home is a relaxed home and there's no greater feeling than getting in from work and stepping into a space that's neat and organised. Also, getting that beautiful, homely look is much easier when your surfaces are clear. Get the look you've always wanted with some beautiful storage pieces. From simple, stackable boxes, floating shelves, side cabinets to cube furniture – there are lots of ways you can de-clutter and start reflecting the love and time you put into your living space.
2) Let there be light
Lighting can have a huge effect on how a room feels. Soft lighting is warm, cosy and relaxed. Bright lighting can feel modern and inspiring. And of course, you want to avoid lighting that's making your rooms feel overshadowed. Choose lighting that inspires you – perhaps rope lights, fairy lights, cube lights and standing lamps to soften the corners and bring warmth into the room.
Natural light is also really calming and inspirational. Planning a quiet night in? Why not light a scented candle and relax while watching the flame? They're super calming and can be placed in almost any room. Change up the scents for an extra touch of loveliness.
3) Colour me beautiful
If you love to surround yourself with colour in the home, then you'll want to freshen up your scheme every now and again. Change up your home – without decorating all the walls, tiles and furniture – with a few simple soft furnishings. Cushions, throws, curtains, towels, rugs and even bed sheets can instantly have a really big impact on a room.
And if you are thinking of changing your interiors, why not opt for a more neutral tone in grey or ivory, so that you have the option of accenting colours of your choice whenever you feel like it. Pack away your extras for another time and change up the theme whenever the mood strikes!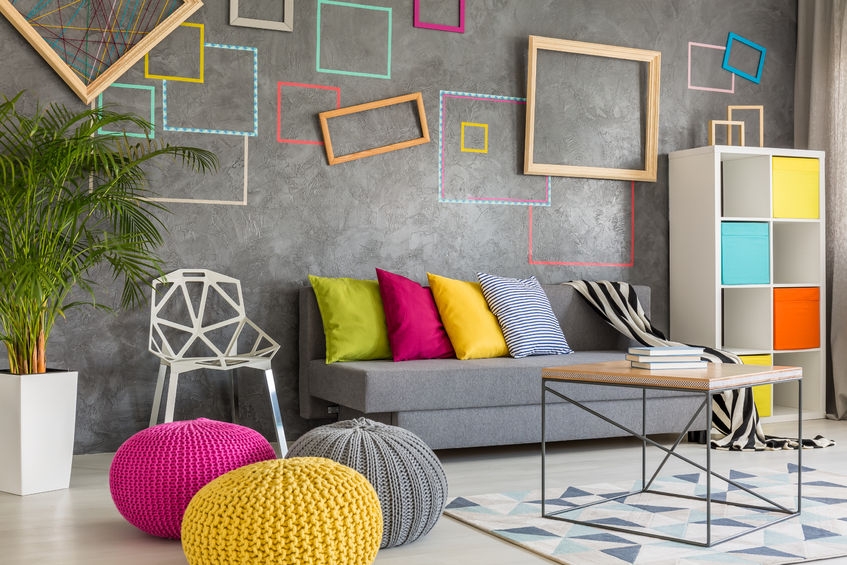 4) A new vantage point
Speaking from experience, a new furniture rearrangement can do wonders for your home. Change up the sofa, bed and dining table for a new perspective. Heading outside? Pick a new spot to have drinks and nibbles in the garden.
And if there's simply no way to move the family sofa, why not invest in some smaller stools, benches and armchairs, so there's always an opportunity to sit somewhere new and appreciate your home from a new angle.
5) Small is beautiful
Sometimes it's simply about making the most of the smaller spaces around your home. Whether it's the hallway, under the stairs or utility room – there's always potential for more. Store, shelve, create and find beauty in the little things. Make sure that no space is forgotten about and that every single corner matters. That way, you'll not only have more places to keep all your things, but you'll have even more love for your living space. Each part has a story and every piece has a place.
Create a pantry under the stairs, a bookshelf on your landing or even a mini bar in your dining room.
Get creative and feel inspired to change up your home today. Looking for ideas? Visit us on Instagram and Facebook @HartleysDirect.
And most of all, have fun!