Five Most Beautiful Flowers To Draw
Five Most Beautiful Flowers To Draw
Living in the UK, we tend to be indoors people – and rightly so. Snuggling into a sofa with a glass of wine and too many cushions is one of the best ways to spend the evening for many.
But when the sun finally shows its rays and the warmer months pick up their pace, it's only natural to want to make the most of it. Flakey croissants in the morning sun, half an hour with a book while relaxing on the grass, or a tall, iced gin on the patio as the evening starts to settle.
It's also a chance to see everything in a new and gloriously warm light. A blue sky is a bit of a rarity around these parts. So when you finally get a glimpse of the clear expanse, hemmed by green trees and velvety petals, it truly is inspirational.
And if you love to embrace the flourish of nature around this time of year, there's nothing better than capturing the spring summer bloom on paper. It's not only a great excuse to spend time outside, but it's a really lovely way to simply celebrate the natural world when it's at its most lush and abundant.
Drawing in the garden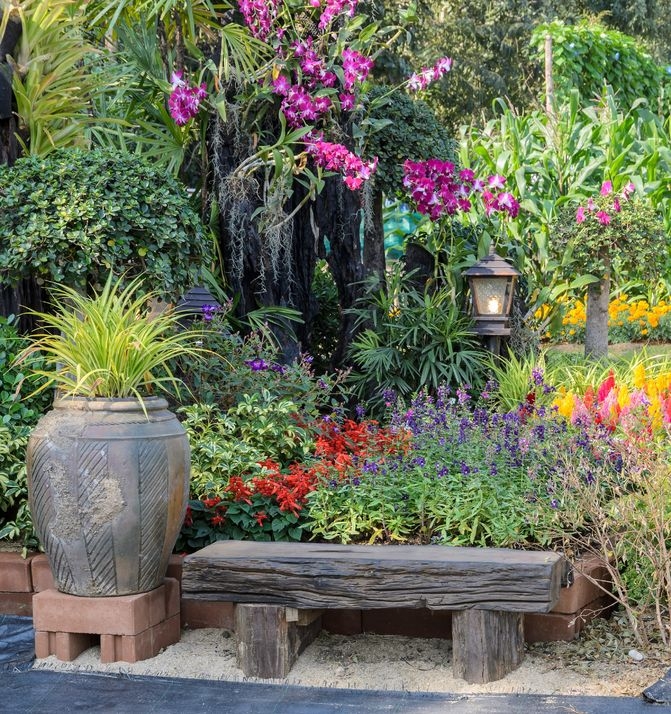 If you don't have a wooden drawing board, you're probably already having visions of pencils rolling around on the patio, paper flying everywhere and a faint imprint of picnic table on every page. By having an artist's table, you're much more free to enjoy your time outside with the proper equipment.
A cool drink, some light snacks and a sun hat later, and you're ready to begin:
First, find yourself a comfortable spot in the garden that is a particularly good vantage point for absorbing everything that's in bloom.
Make sure your drawing table and stool are stable. If they're rocking, adjust them until they allow you to apply pressure without moving to an angle.
Sunshine is great for illuminating your subjects but it can also be a pain if it's streaming straight into your eyes. Grab some sunglasses and make sure you can see clearly.
Spending all day in the sun also has its implications – make sure you grab some sun lotion, stay hydrated and include a few visits to some shady spots throughout the day!
Stuck for where to begin? Here are our top five most beautiful flowers to draw.
1) Sunflowers
Tall and majestic, there's a reason why Van Gogh chose to depict these magnificent specimens - they truly are beautiful. They're also a nice and fairly simple one to start off with. That's especially good if you're a little out of practice, or just want to keep things light while you enjoy some time outside. By using sunflowers as your subject, you can focus on having an impact through colour which can also be really fun. Equally, if you have a keen eye for detail, then creating a more detailed drawing by using pencils and shading, is also a lovely way to portray this rather beautiful bloom.
2) Alliums
Like purple pompoms on elegant green stalks, these gorgeous flowers are really quite striking – and certainly more common than you might think. Fantastic for adding colour to your garden, they stay in bloom for a remarkably long time. And if you're one for spending time nurturing a piece to the last stroke, then this is the one for you. The thousands of individual petals will make your drawing a labour of love, but in the same instance, one that you will treasure for years – especially after all the time you invest in it! And if the weather isn't on your side, then having them in a vase indoors is equally just as pleasing, and will also give you a chance to finish off your piece.
3) Stargazer lilies
With long, luscious petals, these elegant flowers are perfect for capturing the essence of summer. Simple in structure, they don't take long to outline which means you can spend your time adding deep blush pinks as well as lots of delicate detail. A favourite for Valentine's Day, there's something really quite magical about these star-shaped flowers. They're also great for allowing you to inject your own personal style into your drawings as they're very diverse and free-flowing.
4) Peonies
Spring and summer are definitely wedding seasons and there's nothing that represents that feeling of love and romance like the peony. A puff of white, pink and red hearts, these are stunning flowers and perfect for helping to jostle your artistic inspiration. Draw them on their own or gather an accompaniment of soft pink and ivory flowers for an pretty bouquet of these timeless classics.
5) Bird of paradise
Not for the average British garden, these plants may be a rarity in this country but they're certainly no stranger to a greenhouse or florist. And if you really want to give your summery drawings a tropical flavour, then these unmistakable plants are the best way to do it. They are striking, colourful and fairly easy to draw so ideal for beginners.
So, stock up on art materials and get ready to be creative in time for the warmer months, and don't forget to send us your pictures! You can find us on Instagram and Facebook @HartleysDirect.