Clever Design Ideas For Small Bathrooms
Clever Design Ideas For Small Bathrooms
When you've got big ideas but not much room, it can be tricky to find ways to be creative. However, good design doesn't come with having a lot of space. Good design comes with being clever.
Take Japan for example. They have a population of around 127 million – all packed onto a relatively small amount of land. Many of them don't have a lot of space to play around with. So, it's really important they're frugal with their things, intelligent with their design and selective about their ornamentation.
And we can take so much inspiration from this – especially when it comes to decorating our bathrooms.
Rarely likened to what we see in magazines, our bathrooms are not vast, sweeping chambers filled with gold-fringed mirrors, silk-woven armchairs and roll top baths.
Most of us are much more accustomed to doors that don't quite fully open, bath shelves that are crammed with bottles and windows that you can't open fully without flashing the neighbours every time you shower.
And if this sounds like you, we can help.
Having a small bathroom doesn't mean throwing all your creative ideas away. Follow our top 10 tips for making the most of your small bathroom, so you can enjoy your home even more!
Top 10 tips for making the most of a small bathroom:
1) Storage is key
Having places where you can stack, store and hide all your essentials is one the key ways to clear up your small space and keep it looking pristine. Under the sink storage units are ideal for creating lots of extra storage space without taking up too much room.
2) Add height
If your bathroom is on the small side, you'll want to make it look as tall as possible, to help make it feel more airy and spacious. Deceive the eye and add height instantly with careful colour positioning. Making the walls the same colour as the floor can help do this, so the room blends into one. Darker coloured ceilings and flooring will make rooms feel lower than they are so brighten them up where you can.
3) Make a statement
Lots of ornaments can help create a theme but too many and the place will look too cluttered. Also, you'll lose precious surface space. Pick a theme and choose one statement piece to place in your window sill or on the wall for example. This will state your theme clearly but won't take up too much room in the process. Vases, big candles, art and ornaments are great for doing this.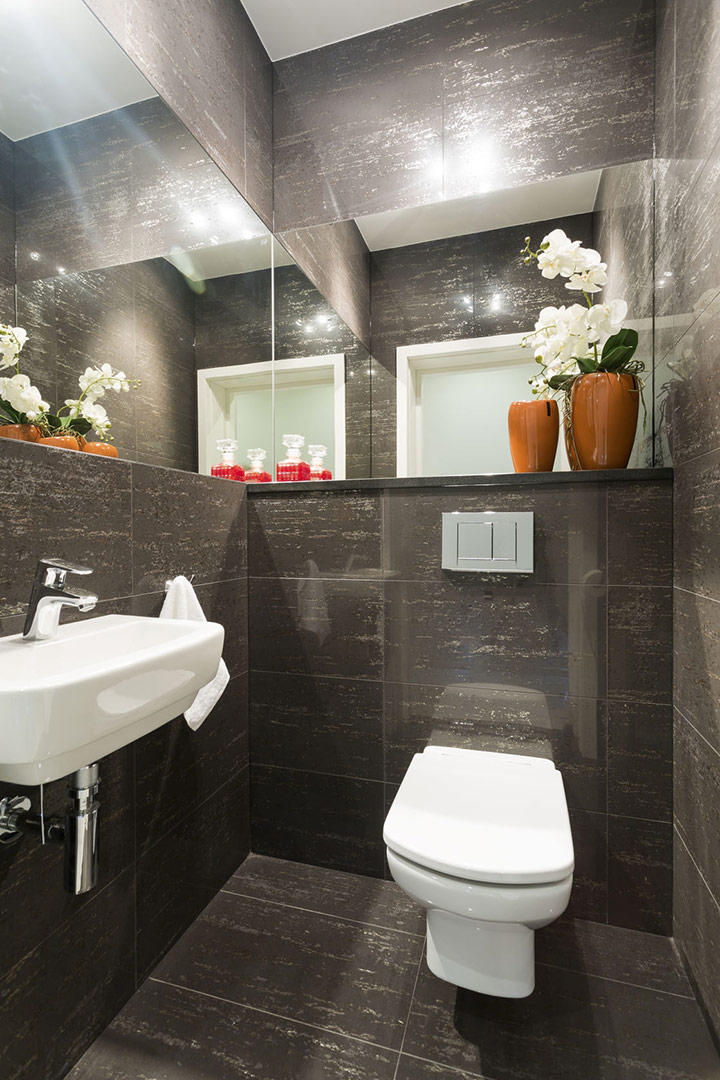 4) Use your walls
If you can't build out, build up! Floating shelves are great for getting extra storage space without taking up that much needed floor space. Place them high to add height. You can even layer them above the toilet, and use them to place decorative as well as practical items on.
5) Turn a blind eye
When you don't have much space, little things make a difference. Keep your room clear with a blind over the window rather than curtains. Even though it doesn't seem like much, the room will instantly feel bigger and it will also help you to get more light in.
6) Clean edges
Clean lines and right angles will help keep everything looking neat and spacious. So, do away with the bath mat and replace with a small wooden duck board, swap the shower curtain for a glass screen and change up your soap bars for a dispenser.
7) Feature walls
Small rooms don't need to be plain. Patterns can be used in moderation to add depth and drama. Choose a wall and make it a feature wall with some luxurious (bathroom friendly/mould resistant) wallpaper. That way it will catch your eye and you'll always have a focus.
8) Add a skylight
If you have a slanted roof and this is within your budget, having some extra light will always help make a room feel bigger. Not only that, but who doesn't want a bit of extra sun? Let out the steam and keep your bathroom cool and fresh while maintaining your privacy.
9) Cosy corners
If floorspace is an issue for you, corner units are great for saving on space. Corner toilets, corner basins and even corner shelving!
10) Have hooks but don't rely on them
Hooks are great for hanging your towels and dressing gown while you shower. However, when they become relied upon, they can often become overloaded which means they really eat into your space as soon as the door is closed. Hang the necessities and keep other items elsewhere to give your bathroom some breathing space.
And there we have it!
Feeling creative? Get in touch with your small bathroom ideas and send us your images on Instgram and Facebook @HartleysDirect.