Transform Your Bathroom With These Gorgeous Plants
Transform Your Bathroom With These Gorgeous Plants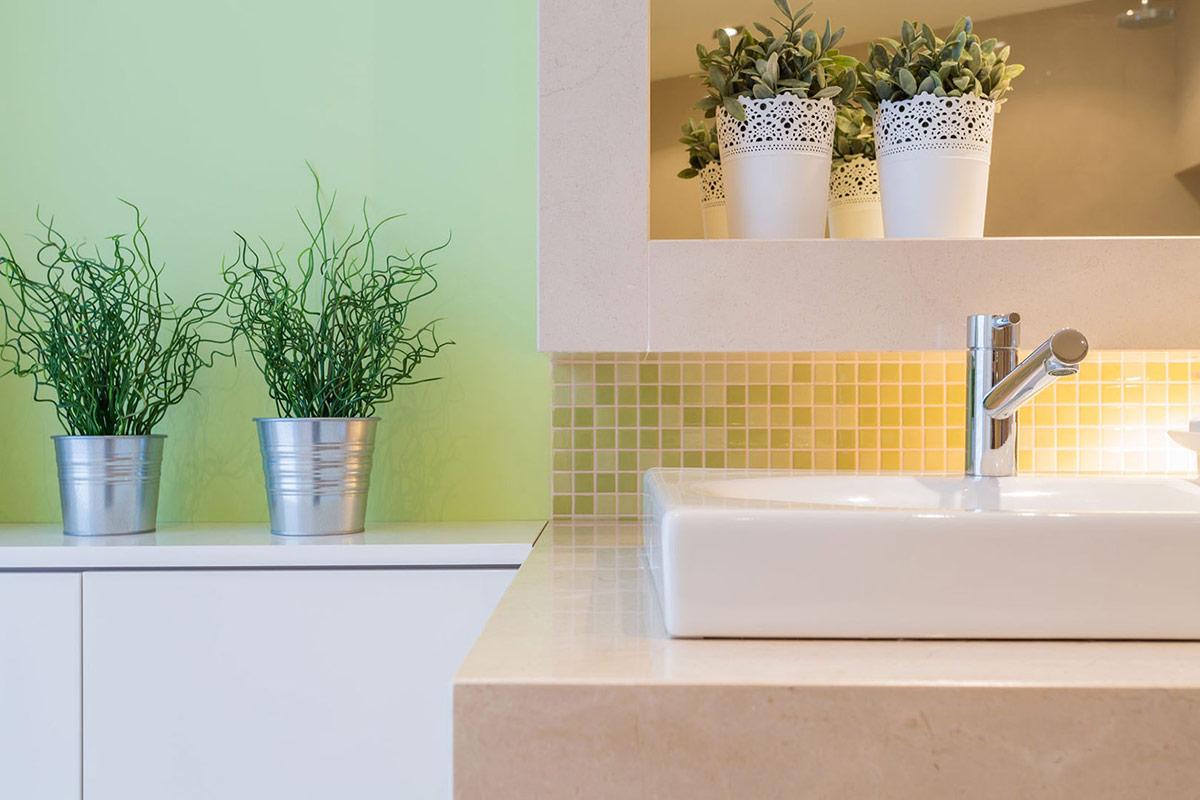 Bathrooms are all about feeling fresh and beautiful. And there's no better way to give you that fresh and beautiful feeling in the morning than a selection of gorgeous plants. Natural, delicate and a burst of colour, they are a great way to energise your washroom while giving colour, shape and detail.
The thing is, plants often crumple and wilt under my supervision so it's difficult to choose the right flora for my home. After trying and testing many different varieties, I have finally come up with the best bathroom plants.
And the best thing about placing them in the bathroom is they don't take much looking after either! The steam from the shower and general humidity tends to keep them going on their own.
Just keep a water mister and a little bottle of plant food in your under sink cabinet, and you'll be ready to fill out your bathroom with beautiful greenery.
So, get ready to add a dash of colour and inspiration to your bathroom, with my top five (easy to care for!) plants for the bathroom.
1) Orchids
I have always heard people talk about how difficult orchids are to look after. They are so delicate looking. Convinced they would instantly die under my care, I didn't touch them for years. It was then I was bought one as a present. The light pink petals were so beautiful.
To my amazement, the orchid stayed alive for months – and without educated care either! I left it to its own devices mainly, just giving it the occasional slurp of water when ever it started to look a little dry. Eventually its buds stopped growing but considering it was meant to only last a month, it actually stayed with me for around four months. So, I think these are actually a pretty good investment.
2) Fake it until you make it
If you're not a born with green fingers, plants can end up being a hassle. But that doesn't mean you need to miss out on these beautiful adornments. Add life and texture to your bathroom, without the stress of keeping it all lush and nurtured, with a selection of artificial plants.
They're great for adding a splash of colour to your washroom and the best bit is, they will always look fabulous, no matter how little or how much water you chuck at them...
3) Bamboo
Personally, I love that Japanese water-garden look. It's so calming and beautiful. So recreating this in my own bathroom is a sheer delight. And you don't need to move to Japan to get there!
All you need is a few simple features and you're away. Try some grey pebbles, clear vases and some twisted, green bamboo sticks. They are really gorgeous and give a lovely fresh feel to the room. And the best part is, they're really easy to look after!
4) Aloe vera
Not just great for the skin, aloe vera makes a great bathroom plant too! They are so simple to look at and the leaves are so thick and lush. The great news is that they're also really difficult to kill! Just place them near the bathroom window and basically, leave them be.
They will pretty much survive on the humidity alone making them great plants for those who like to busy themselves with other things!
5) Ivy
Ivy is great for purifying the air which is one of the reasons I've included it in this list. Ideal for the bathroom, it will eat up all the toxins and help to keep your air clean. It looks so beautiful hanging from either a pot or a hanging basket.
Perfect for breaking up the harsh corners of most bathrooms, ivy plants add colour, focus and a fresh green hit. They also love the high humidity levels often found in bathrooms, making them ideal.
Feeling inspired? Decorate your bathroom with beautiful plants and send us a pic on Instagram or Facebook @HartleysDirect.