10 Easy Home Decorating Ideas: Autumn Inspiration
10 Easy Home Decorating Ideas: Autumn Inspiration
I put my coat on today for the first time in months. Now, I'm the type of person who's still wearing a scarf even in 30-degree heat, so that's not saying much. But for the past couple of weeks, I've noticed the air has had a little more bite, and the sky is now a definite grey.
This annual turn in seasonal events always kickstarts my hibernating instincts. My snood collection has doubled in size, there's an extra throw on the bed and I have even bought a hat.
And it's not just about wrapping myself up in as many layers as possible. My approach to coming home and relaxing is changing too. No longer am I throwing open the windows while pondering dinner in the evening sun. Instead, my mind is turning to more oven-based delights. Buttery baked potatoes, thick soups and bubbly hot chocolates have already made an appearance this week.
Now all I need to do is wait for that week when I suddenly find my car's windscreen has iced up overnight. Then I'll know it's official.
And if you're starting to spend more time indoors than outdoors, you'll want to make sure your home looks and feels like you want it to – cosy, welcoming and warm.
Here are my top 10 ideas for autumn which are simple, effective and wonderful for this time of year.
1) Cosy up
Think autumn? Think textures! The colder weather can make us want to curl up. So, make sure you have somewhere warm and soft to relax when you come home. Pile up the cushions, layer on the throws and break out the thick fabrics.
2) Get creative
You don't have to be crafty to be creative! These Hairpin Prism Shelf Brackets are great for mini-design projects which are also super easy to complete and great for storage. Head down to your local hardware store and pick out your favourite piece of wood. Or you could even recycle an old piece of furniture.
Paint, varnish and shape, et voila! You have a new shelf to call your own that's beautifully autumnal and a great activity for a rain day.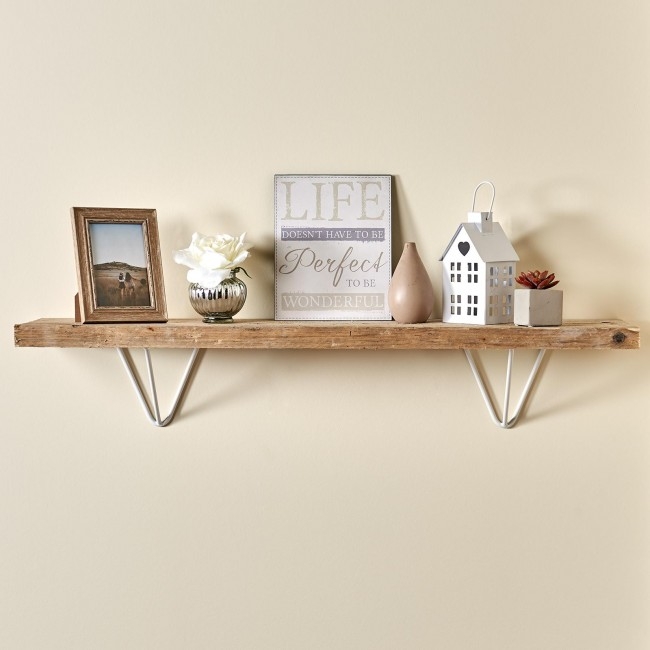 3) Bring the outdoors indoors
Throughout summer, it's so lovely to have fresh flowers dotted around the house. Even just a few can really brighten a home – or even a day!
But now it's autumn and our attention turns to velvety reds, foliage and branch displays for a longer lasting and more textured look, that's seasonal too!
Place them in corners to break up harsh lines, on tables and windowsills, and why not add in some fairy lights too to brighten them up as the nights draw in.
4) Fluffy rugs
Being able to ruffle your toes through a thick, fluffy rug is one of life's little pleasures. Place one near your sofa and one next to your bed, as a welcoming, soft treat for your feet.
Also fantastic for adding in texture and breaking up plain floors, you can use them for styling as well as comfort!
5) Turn up the heat
It's almost time for the heating to come back on again, just to ease the chill first thing in the morning. But radiators have never been the prettiest of home furnishings. And if you have little ones or pets, there's always the concern that they can burn themselves on them.
Take the safer option and cover yours up with a radiator cover! They come in a range of sizes and are great little home projects. Paint them, decorate them and style them up, and when you're done, they can used as an extra shelf for ornaments and photo frames.
6) Natural light
Natural light is extremely soothing and ideal for relaxing with when you come home after work. When the sun doesn't supply it, use candles to create a soft, calming, orange glow. Keep some on your coffee table and in your bathroom for when you want to take a long soak in the bath.
Choose candles that are different sizes and you can always use scented ones in warming scents such as vanilla spice, sandalwood or black cherry.
Just remember your fire safety dos and don'ts when lighting candles at home.
7) Create a space for entertaining
As the weather gets colder, it can often be much nicer to have a big night in rather than a big night out. Create a dedicated space for entertaining so that you and your partner, friends and family can have somewhere you can enjoy a few drinks and tasty nibbles.
Tall tables are great for helping you create an area for entertaining guests that's away from the dinner table. Add in some plush, tall bar stools and you're onto a winner!
8) Stock up on autumnal foods
They say the first bite is with the eye and nothing says autumn a selection of seasonal delights.
Now is the time for butternut squash, blackberries, apples and of course, our Halloween favourite – pumpkins!
Dot them around the house in bowls for everyone to enjoy.
9) Crack open your winter wardrobe
Even though there will still be a few brave souls out there sporting shorts, it will soon be time to finally put that summer wardrobe to bed.
And if you're getting ready to unleash those thick jumpers and woolly socks, invest in some extra under bed storage boxes to help you stay organised.
10) Scents and sensibility
There's nothing better than coming in from the cold and instantly having your sense filled with various culinary delights from the kitchen. Think inviting scents such as warm bread, fresh coffee and oven roasts for a simple and easy way to complete your home's overall feel.
And the best bit about it is that you get something yummy to eat at the end of it!
So, snuggle up and get cosy in time for the colder months with my top tips for decorating your home this autumn! And for more tips and inspiration follow us on Instagram and Facebook @HartleysDirect.